CROMOCON APPs
CROMOCON established the '5 Factors' software that is essential for VIP perception. The three APPs use it to check the world is visible for 93% of VIPs.
We made them, checked them and tested them!
These factors built the unique APPs' software algorithm, with over 25 years of research and testing with visually impaired people (VIP). They are proven critical variables of visibility.
Adjust any of the 5 factors in the APP and it will check whether an object or element in a building is VISIBLE. Our customers call it a'no-brainer' to success!

1 VISUAL ABILITY – the VA Group is fixed default of 93% of VIPs
2. CONTRAST* – Calculated between object LRV & Background LRV
3. LUX LEVEL – Lux Meter or similar device for light assessment
4. DIMENSION – Visible width of object, but must be the minimum
5. DISTANCE – Measured distance from a critical viewing point of the object
The 3 CROMOCON APPs are unique pieces of software

We know the level of CONTRAST VIPs need to navigate environments

The APPs are currently available for mobile platforms IOS and ANDROID
CONTRAST* is derived from the difference between adjacent surface LRVs
Get the CONTRAST right with measured LRVs – get visibility right!
Check out – e-ISBN 978-1-4471-2867-0 pp93-102
"The 5 FACTORS software gives definitive results on visibility for 93% of people with low vision"
The APPs are:
1. CROMOCON LRV™ APP
Free APP for the LRV™ METER
2. CROMOCON USA APP / INTERNATIONAL APP – Newly launched!
With USA CONTRAST calculator
Available from:


1 CROMOCON LRV™ APP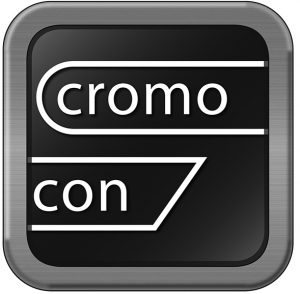 "This is the only fail-safe way to check LRV and visual accessibility"
Get this FREE APP onto your mobile phone from iTunes/Googlepay
It runs the CROMOCON LRV™ METER
Don't loose out by lagging behind other businesses
Nothing else is faster for designers, architects, and manufacturers
The METER measures LRV of materials
Many pitches for work are unsuccessful without LRV data on the desk
2 CROMOCON APP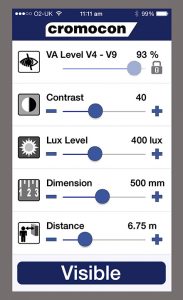 "It's so easy to be sure of CONTRAST and visibility"
Amazing original APP software available from iTunes and GooglePlay!
A fast and easy APP, a valuable way of calculating the visibility
The VA Level V4 – V9 (93% of VIPs) a fixed default cannot be adjusted
The software adjusts other 4 factors for successful specification of VISIBLE
Press NOT VISIBLE if displayed and select SUGGESTIONS to change a factor
The Dimension for example of a chair or column, or Distance are critical
But CONTRAST can be changed easily by raising the floor LRV or lowering a wall LRV

3 CROMOCON USA APP

"A great tool for getting LRV right, globally"
In the USA, CONTRAST guidance is calculated differently from UK/Europe
Professionals in the USA enter the LIGHT of the two LRVs first
Then the DARK LRV second – the CONTRAST is then calculated
The CROMOCON USA/International APP works the CONTRAST out
The figure is entered into the CROMOCON VISIBILITY CALCULATOR 
Calculated with remaining bits of data – Lux Level, Dimension and Distance
The software assesses if objects are VISIBLE or NOT VISIBLE  for 93% of VIPs 
Press NOT VISIBLE if displayed and see SUGGESTIONS for adjustments
A higher CONTRAST should usually give a successful VISIBLE result
Check Distance as 3 metres away is critical
BOOKS
THE CONTRAST GUIDE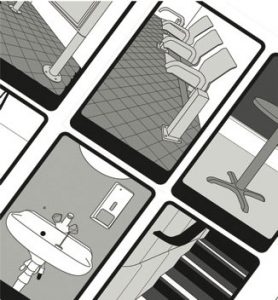 "A key reference book on CONTRAST – training many users"
It is a comprehensive resource with examples of CONTRAST for buildings and interiors
THE CONTRAST GUIDE shows how CONTRAST is easily understood
It has an LRV Ready Reckoner for on-site checks by access consultants

Charts show the visibility of objects and elements that have 30 points of CONTRAST difference
There is a glossary as well as illustrations of typical elements of products
Environments must be accessible for people with low vision
£49
Lighting and Colour for Hospital Design

"Written by experts on the use of lighting and colour for healthcare design"
Lighting and Colour for Hospital Design, is a comprehensive handy guide
Clear examples of good practice and suggestions
For solutions using colour and lighting effectively
Written by experts in the fields of lighting by Paul Littlefair, David Loe
Colour design knowledge by Professor Hilary Dalke
It is essential reading for designers, architects, facilities managers
Also helpful for staff requiring support for self initiated projects
It has become a standard NHS eference book
Recommended reading by the NHS staff and project managers
Healthcare sector staff need information for upgrading areas of concern
£48